About
"All the Usual Subjects" a limited edition book of Peter's images available through this site see Pricing Page.
In a review on Nikonians.com, the Nikon user site, J Ramon Palacios writes
"The Usual Subjects go about their daily chores, just being anonymous heroes of everyday life in non-suburban America.  Through the pages, the subjects reveal an uncommon degree of rapport with the photographer, so each one talks about him, without talking.  The photographer, in return, applies his art of seeing to capture and reveal to us not just the strong character of each one of these now un-usual subjects, made unusual by that bond, but also their common surroundings, made interesting and beautiful because of the subjects, the friendship and Peter's art."  A class in composition, exposure and the art of seeing, the book ends to soon leaving us wanting for more.
Pricing info on Prices Page
Peter's work is in many private and public collections including his Documentary Photographs of Rites and Reason Theatre at Brown University are in the permanent collection of The National Museum of History at The Smithsonian Institute.
03/09

Judge quarterly Photo competitions for The Photo Connection of Colchester

03/19/09

My Transparent Life Quinabaug Valley Photography Club

02/09

Judge New England Camera Club Council [NECCC] Regional Digital Slides

02/09

NAACP 100th Anniversary exhibit juried show two photographs

01/09

Hygienic Art XXX

. Hygienic Art Gallery, Bank St. New London CT

01/09

My Transparent Life Slide show and lecture on composition Windham Photography Club

11/08

My Transparent Life ArtSpace Norwich Gallery Slide Show

10/08

The In-Sight Photography Project

Silent Auction and Exhibit

4/08-
6/14/08

"A Life in Stone: The Cape Verdean Stone Masonry Tradition in Eastern Connecticut, "A collaboration among the Norwich Cultural Arts and History Project, the Cape Verdean Santiago Society and the Norwich Arts Council, this exhibit features photographs of the masons and their elegant stonework by Peter J. Crowley and Richmond Jones. Jean J. Schensul Community Gallery at The Institute for Community Research. 2 Hartford Square West, Ste. 100 (146 Wyllys Street), in Hartford, CT

1/08

"A Life in Stone: The Cape Verdean Stone Masonry Tradition in Eastern Connecticut, "A collaboration among the Norwich Cultural Arts and History Project, the Cape Verdean Santiago Society and the Norwich Arts Council, this exhibit features photographs of the masons and their elegant stonework by Peter J. Crowley and Richmond Jones. Norwich Arts Council Gallery.

11/07

Slide Presentation Wrench in the Works Willimantic CT

11/07

Three Rivers College David Brown Benefit Show

10/07

Central Baptist Church Poverty in Photographs and Verbal Images

10/07

Mystic Arts Center Photo show XXIX

10/07

The In-Sight Photography Project Silent Auction and Exhibit

8/07

Art attack Windham ArtSpace Willimantic Ct

8/07

Windham Textile and History Museum Silent Auction

5/07

Rose City Renaissance Picturing Norwich II Jury award Second Place Events

2/07

Photocenter Troy NY Grand Opening Invitational Show

2/07

Slide lecture Schenectady NY Photographic Society on Negative Space

10/06

The In-Sight Photography Project Silent Auction and Exhibit
Vermont Center for Photography Brattleboro VT.

9/06

Two Artists Two Mediums Two Views of the Figure as an Artistic Statement with sculptor Joey Sage Jablonski ArtSpace Norwich

3/06

Art Attack Group Show Windham ArtSpace

3/06

Communication Group Show ArtSpace Norwich

10/05

Picturing Norwich Juried Photo Exhibit – Best in Show

10/05

A NAC for Coffee Patron Portraits at Kokopelli's Coffee and Tea Co.

2/05

The Watermark Gallery
Selections from new portfolios
Layered Life, Excess, Galilee

7/04

A Life in the Rectangle, Stops Along the Road of a Passionate Observer
Merrihews Café and Gallery Norwich Ct.
Selected Photographs and essays from 35 years

7/03

Friends Figures and Philosophy
ArtSpace Gallery Norwich CT
Group show of artist friends who I have worked with and been inspired by Including; Arnold Prince, Ken Morgan, Tom Hebert, Richard Jaworowski Diana Cote, N. Sukumar, Roxanne Pandolfi, Mark Bilokur, The Joey Zone

3/03

Norwich Images the First Two Years, ArtSpace Gallery Norwich CT
Show included 10 images by Peters Assistant Roxanne Pandolfi

7/01

Backstage Twenty Years of Performing Arts Images Spirit of Broadway Theater Norwich CT

7/01

All the Usual Subjects, book release and Gallery Exhibit WAAC Gallery, Willimantic CT

4/97

Stills/Small Voices Photographs and Poetry expressing the same emotions
Paradise Café Willimantic CT in conjunction with The Windham Area Poetry Project and Curbstone Press. Poets included Naomi Ayala.

4/97

Selected Photographs Borders Books Manchester CT

2/97

National Juried all Media exhibit "The Nude" Westfarms Merchant Award 2nd place in show.

6/96

Twenty Five years of Photographic Art Chapel on the Green Gallery, Columbia CT

9/95

Still Movement Dance Photographs Educational Center for the Arts, New Haven CT

6/95

Where Peter Lives The Mulberry Tree Willimantic CT

6/95, 6/96

Interface III & IV, (group show). Athol, MA. Poet/artist collaborative performances and installations

10/81

Meet the Artist, (Gallery/Talk Series). Providence Public Theatre, Providence, RI,

1/80

Dance Photographics Joy of Movement, Center Boston MA
Peter's work is in numerous private collections, and his documentary work for Brown University's Rites and Reason Theater is in the permanent collection of The Smithsonian Institute. His work with internationally known choreographer Truda Kaschmann is in the permanent collection at The Wadsworth Athenaeum
in Hartford CT.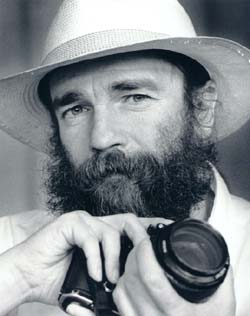 Photograph by Fran Funk
PUBLICATIONS
TEA, A Magazine. (int'l circ. 10,000). Two-time contributor to bi-monthly column, "Two-Dimensional Tea," full-page color photos.
The Sun: A Magazine of Ideas. Literary/fine arts journal, (int'l circ. 25,000).
Hartford Advocate (orig. Valley Advocate). Original Staff Photographer for this newly- founded news/arts weekly, 1973-75.
Providence/Newport Eagle, Staff photographer for these news/arts weeklies, (circ. 50,000), 1980-81.
Numerous portraits and performance stills in arts/entertainment sections of The New York Times, Boston Globe, Providence Journal-Bulletin, Boston Phoenix, Hartford Courant, Advocate Newspapers, as well as other major and local papers across the U.S. and Europe.
UNIVERSITIES


1980-1981

Brown University Rites and Reason Theater Providence RI

1980-1981

Providence College Theater and Publications, Public Information Photographer Providence RI

1980-1981

Rhode Island School of Design Publications Public Information Photographer Providence RI

1980-1981

Wheaton College Publications Photographer Norton MA

1983-1987

Hartford College for Women Publications Photographer, Photo Club Adviser Hartford CT

1983-1985

St. Josephs College Hartford CT

1983-1986

Hartford Conservatory Dance production Photographer for Truda Kaschmann's Modern Dance Ensemble Hartford CT

1985-1986

Hartt School of Music Opera Department production Photographs University of Hartford  West Hartford CT

1986

University of Hartford Theater Department production Photographs

1986-1990
and 1994-1996

Connecticut Repertory Theater production, Publication, Publicity Photographs University of Connecticut Storrs CT

1987

Shakespeare on the Green production Photographs New Haven CT

1989-2003

Southern Connecticut State University Crescent Street Players New Haven CT

1992

Dance Service Network production Photographs Hartford CT

1992-2000

Eastern Connecticut State University Drama Department production Photographer Willimantic CT

1992-1995

Connecticut College Dance and Theater production Photographer New London CT

1993

Little Theater of Manchester production Photographs for Modern Dance Series Manchester CT

1993

Little Theater of Manchester production Photographs for Jazz Series Manchester CT

1995-1996

Mary Barnett In Good Company Dance production Photographs New Haven CT

1996-1997

Mount Holyoke College Theater production Photographer Holyoke MA

1997

Miss Porter School Dance Department production Photographs Farmington CT

PROFESSIONAL PERFORMANCE COMPANIES


1977

Margo Knis Dance Ensemble production Photographer Chesire CT

1977-1978

Connecticut Dance Theatre production, Publicity photographs and Graphic Design Hartford CT.

1981-1982

Providence Public Theater Providence RI

1981

Rhode Island Feminist Theater Booking Brochure and Publicity Photographs Providence RI

1981

Royal Pointiciana Playhouse, West Palm Beach, NYC advance publicity photographs

1985

North Carolina Dance Theater production/Performance Photographs for New England Tour

1990-2003

Centennial Theatre Festival production Photographer Simsbury Connecticut

1993-1995

The Producing Guild E. Hartford Connecticut

1996

The Eastern Connecticut Ballet booking and admissions brochure. East Lyme Connecticut

2000

The Albano Ballet production Photographs Hartford Connecticut

2000

The Nutmeg Ballet production Photographs Torrington Connecticut

2001

The Spirit of Broadway Theater production Photographer Norwich CT

COMMERCIAL WORK
Portraits and publicity photos for internationally touring performing artists including Erica Batdorf, Truda Kaschmann, Christopher von Bayer, Aztec Two Step, Naomi Ayala, [Author Portrait for Wild Animals on the Moon] Martín Espada, Hugh Blumenfeld, J. Allen Suddeth [author portrait for Fight Direction for Theater] and Mary Barnett, as well as painters/ sculptors including David Hayes and Richard Jaworowski, Arnold Prince, Kenneth Morgan, Imna Arroyo, Claudia Widdess
Photographer, City of Windham Economic Development Department, 1994-2000. Have created two complete cultural and economic portraits of this historic and diverse city for presentations at municipal bond hearings and commercial development brochures; Created all photographs for Willimantic Housing Authority brochure for elderly housing.
Keeper Corporation Windham CT. product and publicity photography 1995-2001

COMMUNITY SERVICE
Resident professional photographer, UCONN Camera Club. Run workshops, supervise students in darkroom, individual tutoring.
Provide free or discounted photographs for local organizations including Windham Boxing Club, Willimantic Lighter Than Air Balloon Festival, Greater Mansfield Arts Council.
COMMUNITY ARTS AND SERVICE ORGANIZATIONS
Common Thread, Willimantic community artist collective, 1993-1995.
Vice-President, 1993-95; President, 1995.
Willimantic Downtown Revitalization Task Force, 1997.
Windham Area Poetry Project, Advisory Board, 1996-2001.
Windham/Willimantic Business Council.
Coventry Arts Commission, 1983-89; Co-Chair, 1987-89.