A Life in Photographic Art my second book is in the works a colorful look through my viewfinder with essays, poetry and tales of my life as a metaphor. Thank you please comment. enjoy pjc
"All the Usual Subjects" a limited edition book of Peter's images available through this site see below.
In a review on Nikonians.com, the Nikon user site, J Ramon Palacios writes
"The Usual Subjects go about their daily chores, just being anonymous heroes of everyday life in non-suburban America.  Through the pages, the subjects reveal an uncommon degree of rapport with the photographer, so each one talks about him, without talking.  The photographer, in return, applies his art of seeing to capture and reveal to us not just the strong character of each one of these now un-usual subjects, made unusual by that bond, but also their common surroundings, made interesting and beautiful because of the subjects, the friendship and Peter's art."  A class in composition, exposure and the art of seeing, the book ends to soon leaving us wanting for more. 
"All the Usual Subjects" A copy of  this limited edition signed and numbered is $25.00 there are a few left. Buy with "Another Door Entered" both for 50.00 You may mail me a check or use the donation button to pay with Paypal.
Peter J. Crowley
3139 Quince St. SE. #3
Olympia Wa. 98501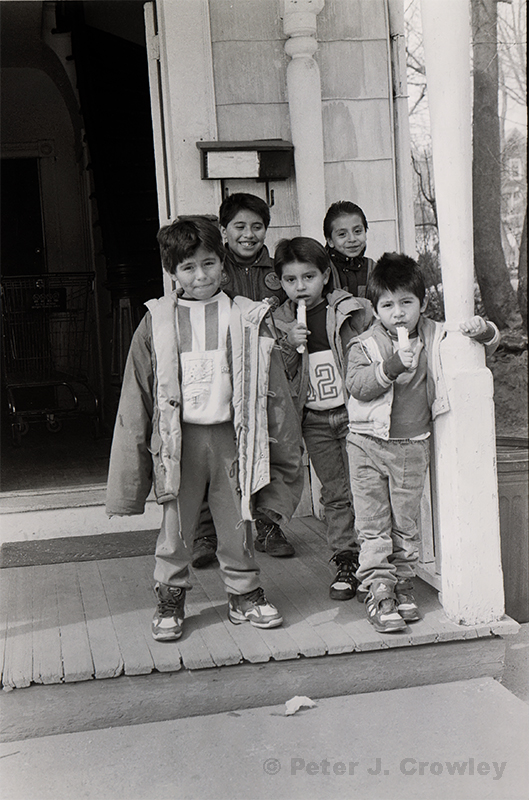 Great subjects down the street from me in Willi.  but not in "All the Usual Subjects." 
---
Peter's work is in numerous private collections, and his documentary work for Brown University's Rites and Reason Theater is in the permanent collection of The Smithsonian Institute. His work with internationally known choreographer Truda Kaschmann is in the permanent collection at The Wadsworth Athenaeum
in Hartford CT.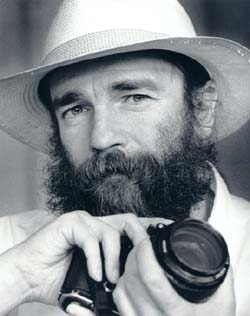 Photograph by Fran Funk
PUBLICATIONS
TEA, A Magazine. (int'l circ. 10,000). Two-time contributor to bi-monthly column, "Two-Dimensional Tea," full-page color photos.
The Sun: A Magazine of Ideas. Literary/fine arts journal, (int'l circ. 25,000).
Hartford Advocate (orig. Valley Advocate). Original Staff Photographer for this newly- founded news/arts weekly, 1973-75.
Providence/Newport Eagle, Staff photographer for these news/arts weeklies, (circ. 50,000), 1980-81.
Numerous portraits and performance stills in arts/entertainment sections of The New York Times, Boston Globe, Providence Journal-Bulletin, Boston Phoenix, Hartford Courant, Advocate Newspapers, as well as other major and local papers across the U.S. and Europe.
COMMERCIAL WORK
Portraits and publicity photos for internationally touring performing artists including Erica Batdorf, Truda Kaschmann, Christopher von Bayer, Aztec Two Step, Naomi Ayala, [Author Portrait for Wild Animals on the Moon] Martín Espada, Hugh Blumenfeld, J. Allen Suddeth [author portrait for Fight Direction for Theater] and Mary Barnett, as well as painters/ sculptors including David Hayes and Richard Jaworowski, Arnold Prince, Kenneth Morgan, Imna Arroyo, Claudia Widdess
Photographer, City of Windham Economic Development Department, 1994-2000. Have created two complete cultural and economic portraits of this historic and diverse city for presentations at municipal bond hearings and commercial development brochures; Created all photographs for Willimantic Housing Authority brochure for elderly housing.
Keeper Corporation Windham CT. product and publicity photography 1995-2001

COMMUNITY SERVICE
Resident professional photographer, UCONN Camera Club. Run workshops, supervise students in darkroom, individual tutoring.
Provide free or discounted photographs for local organizations including Windham Boxing Club, Willimantic Lighter Than Air Balloon Festival, Greater Mansfield Arts Council.
COMMUNITY ARTS AND SERVICE ORGANIZATIONS
Common Thread, Willimantic community artist collective, 1993-1995.
Vice-President, 1993-95; President, 1995.
Willimantic Downtown Revitalization Task Force, 1997.
Windham Area Poetry Project, Advisory Board, 1996-2001.
Windham/Willimantic Business Council.
Coventry Arts Commission, 1983-89; Co-Chair, 1987-89.