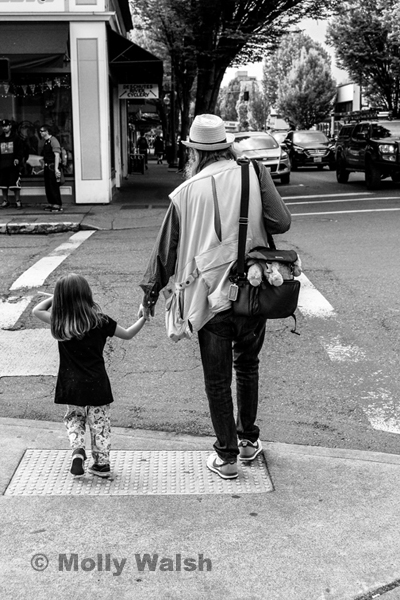 Peter J. Crowley has worked as a professional photographic artist and teacher for over thirty years. Throughout his prolific career, Peter's work has come to exemplify not only his purist approach to the medium, but to many people, mastery of the sensuously precise image. His ability to interpret light as emotion has allowed Peter to reproduce the subtleties of tone and sculptural form that is so apparent in his superbly printed photographs.
The popularity of his work has been enhanced by the technical perfection of his photography and his insistence on absolute control of the photographic processes. Peter's images have been published both locally and nationally. Some of the numerous art and literary publications include Florida Design, The New York Times, The Boston Globe, and The Sun. Christopher St. John Photo Asst. mid 90s
It appears you have done great things since high school to make this world a more beautiful place for all of us. Continue the good work. Cheryl Ober
I'd be very happy to sign your daughter's book and less happy but willing and honored to have my mug photographed by you. I can't imagine being in the hands of a finer photographer.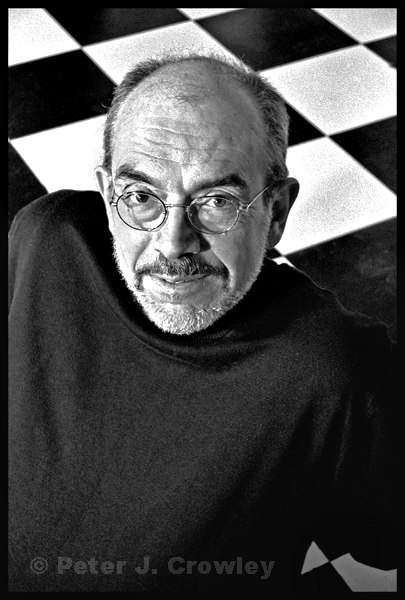 Author Wally Lamb
Great to see that you are still working and wondering and wandering through the present and through the past, putting the world together with your mind's eye. It was always inspiring to hang out with you when I was trying to bring what was inside my head into the world. We miss you too. Hugh Blumenfeld, Poet, Singer, Physician





Color Surrealism – The Emporium, Mystic, CT January 1998

The Day, January 11, 1998
… Crowley creates surrealism, the sort of composition usually associated with virtual photography, in the studio. Most of the images at the Emporium feature a nude female torso blending into free-form landscape of sinuous shapes that enclose or anamorphically mirror the contours.
In some, only a strange topology of reflection implies the human form. in others, the realistic nude contrasts the surreal, as recognizable skin merges with rippling dunes of skin, with lily blossoms floating in space across the Dali-esque vista. …
In Crowley's deeply saturated prints, water is an inescapable motif. The flexible, reflective surfaces that enclose the torso reflect dappling light on the nudes, implying a Lady of the lake floating beneath a watery surface.
Milton Moore
Arts Editor, The Day, January 11, 1998

Today I went to visit an old mentor and to begin an odyssey that I have been seeking. The mentor, Peter J Crowley, is a fine arts photographer who schooled me in the art of the eye and photographic techniques. The odyssey, the first of many visits to an abandoned asylum that I have wanted to shoot. Both have weathered with age and struggle….
-Scot Terban Cyber Nihilist
I wait, practically holding my breath. I already know it will exceed my expectations. So few things in life go over the bar when I set them so damn high. Thanks for being an eleven!!! The East German judge was pissed when I gave an 11 to the " Blond Curl". And then I gave an 11.8 to "The Muse". She screamed " You haven't seen it yet!". I retorted, " You see with your eyes, I see with my soul." Jaymes Chapman a friend collector waiting on an order 16×20 of this image.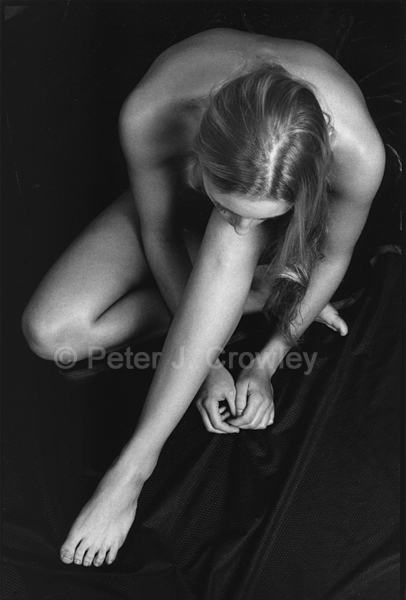 In the summer of 2001 Peter published his first book, "All the Usual Subjects", which is a cultural documentation of an aging mill town struggling to find a new identity.
My thoughts over the years
Sometimes the muse is a woman, sometimes a flower. Most often it's me. Peter J. Crowley
The Soul of an artist is defined by the questions they ask. Have the courage to ask "Why" To see within oneself. Without questions there won't be answers. © Peter J. Crowley January 2nd 2003
The roll of the photographer is that of a voyeur, never reaching his subject's soul, but for brief instances when the subject's heart is offered, only to be interpreted and re-created with a cross breeding of the image makers own soul.
January 22, 2001 © Peter J. Crowley