Feb 1st after a night of strange dreams not uncommon. Confusing perhaps nightmares three hours between sleep and dreams reality is or isn't visiting. Aug-Jan. What happened in Ct. a blur. Out of control, focus on new life prepare/discard old identity

A Drift
A Black and White Cookie, Recognition, Poignant good byes, lunch SMILES HIGH. Ripping up prints giving away tools shredding journals shredding my legacy my life what I dreamed would be left so people would know me be able to piece together a self portrait? LOST LOW.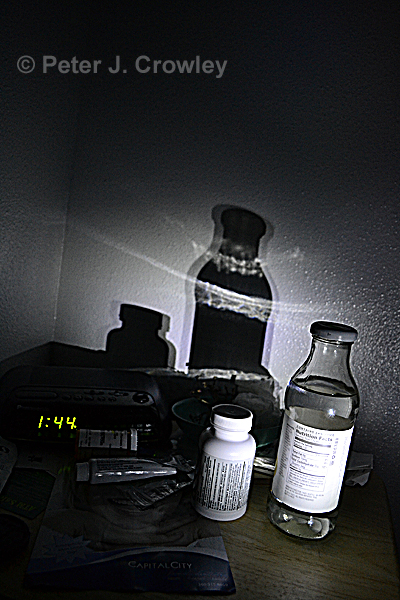 1:44 am Bedside table
Now where is my self? A New Muse 1/30 night before I stress over, where are my tools? How do I reach my inspiration? "What comes next" she said
The Muse
I think Studio there is no studio, control there is no control. Does something always come next? I wonder? Old roads today by way of a CD images from other life's all mine but somehow disconnected from now. But at times I am back in Providence at Rites and Reason with Playwright George Bass.
Shooting "De Day of No Mo"
The epic play George wrote as the Finishing piece of "The Blacker the Berry the Sweeter the Juice" A 40 day ritual drama of Myth, Dreams and History.
Sweet Sleep  pjc

 February 10th 2015 The New Muse "Childhood Dreams"