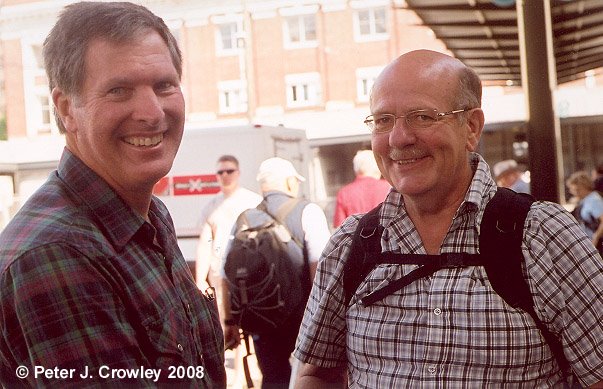 Jon and David Two of the highlights on the ride to Seattle.
I've spoken of them before at the dinner table in the dining car,

there is a lot of mischief in those eyes
.
Here is a story from Jon one of the Amtrak community between Minot and Seattle about the time zones in ND. "In ND the Missouri River is the boundary between the central and mountain time zones. Everything North and East of the river is in the central time zone and everything South and West of the river is the mountain time zone. However all the coal fired power plants, coal mines and the coal gasification plant which are south and west of the river operate on central time even though they are in the mountain time zone. A few years back people who work at these plants and mines got tired of working on central time but living on mountain time and they got a petition together to change the time in those counties to central time. They got enough signatures and put the measure on the ballot and it passed however it still needed approval by the county commissioners. Agriculture is still the number one economic sector in the state and the farmers in this area are mainly descendants of Germans from Russia, brought in by the railroads in the late 1800s. They are a stubborn lot, do not adapt to change well. So when the county commissioners met to decide on this issue the farmers convinced them not to change the time because if they did their cows wouldn't know when to come in to be milked. As a result we are still working on central time and living on mountain time".
I thought before moving on to Sacramento that this story would bring a smile to your face as it does mine. enjoy pjc