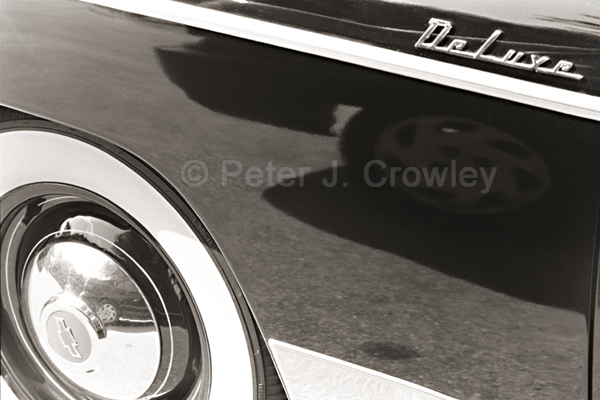 Found this old classic on a cruise night at the Corner Store of Coventry. I like to look back into the reflections of the past. Making my close up images as abstracts, memories from way back then are abstracted with embellishment it was the good old days. Remember it was before I was born. It was also before GM was "born again." Kissing in the back seat on the way to the hop, bobby socks and Kleenex stuffed bras, poodle skirts below the knees. There would be no wardrobe malfunction!
So look back and what do you see? History is rewritten daily, my images I hope inspire time travel memories, you make up the story with a happy ending?                                                   enjoy pjc
"Between Here and There." Photographic Art by Peter J. Crowley from the 1970's to today.  Pearl of the Thames Cafe 175 Thames St. Groton Ct. opening November 6th 6pm.

Would you like to be a curator for this show? Email me about sponsoring a print for the show, you get a work of art [at a Deluxe price] I get a new image to show.
Holiday specials, print sale and portrait sessions being booked for your gift giving. Book a session or an Open Studio visit to review images from my first thirty eight years. Early bookings best prices. Email me! Ask about "The Last Sessions, Kodachrome" a new and old look back, be part of the last rolls of the best color film ever made. Create memories and art.

In Sight Photography silent auction Gallery Exhibit online and at the Gallery through November first. It is a great show and a greater cause.
1949 Chevy Deluxe
Gelatin Silver Print Full frame    RC Paper                   $132.5

Gelatin Silver Print Full frame    Fine Art paper      $238.5
October only.