Hi again, Molly here, Peter's intern and editor.  I have been working with him for fourteen months and exciting things are starting to come to fruition.  After many hours of compiling, sorting, editing and more editing, we now have a chapter proof done, chronicling Peter's photographic fascination of doors titled Another Door Entered:  A Life in Photographic Art.  It is available on Amazon and we are so excited with how it came out. Signed copies available through the site details
Peter and I are now energized and ready to tackle the next item on our agenda:  the big retrospective book.  This book is going to be a behemoth.  How do you condense 40 years' worth of photographs, stories, poems, and musings into 200 pages?  That is the task set before us, and it is now time to dive in.
Curating the images and stories for this book is going to be such a challenge, because for every image, there is a story, relationship or memory associated with it.  When I am with Peter, I almost feel like I have found a time machine, because of his photographs and endless well of stories.  When we are working, we often have a band of the late 60's, think The Rolling Stones, Lou Reed or The Grateful Dead, on in the background to complete the transformation to another time.  When I listen to Peter's stories and see his photographs of older times, of Vietnam War protests, and music festival adventures I hardly believe a world Peter describes existed, and yet it also feels like I have lived it.
Peter has a hard time not telling the story of how every image was created and I have a hard time not being fascinated not only by the story, but also how Peter can perfectly remember every detail.  Just last week he was telling me how the backdrop on a black and white photo from 1983 was actually a dark red drop.  Even though Peter claims he has no memory, I am impressed by his recall.
Although we don't always travel to exotic locales (unless you count the Tumwater Safeway as an exotic locale), I still feel like working with Peter is always an adventure with the rich history I learn and see (through his photographs) whenever I am with him.
And to show you this adventure, I assembled a photographic tour chronicling how we spend our time together while working to compile the book.  Hopefully this is a small glimpse into who Peter is and the memories and photographs he hopes to soon share.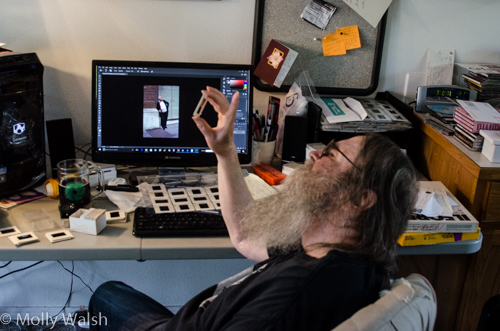 As I walk through the door to Peter's place, I find him at his computer, scanning, surrounded by boxes of slides and negatives.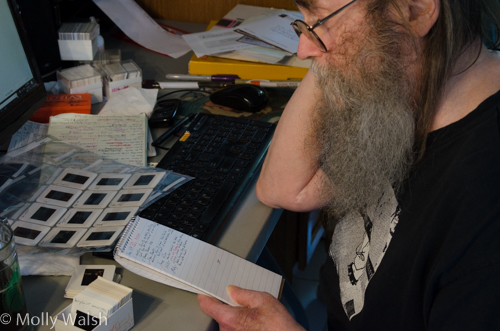 PJC consulting his "mind."  His mind contains the day's agenda and reminds us of what we need to get done.  His mind is to never leave his side, yet sometimes escapes him and it's a scavenger hunt to find.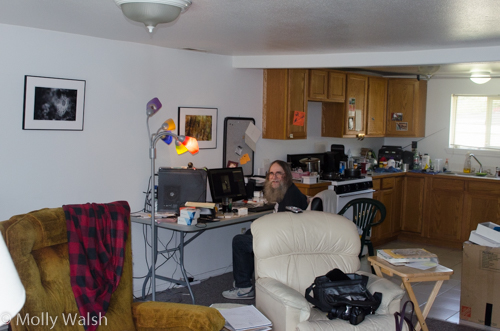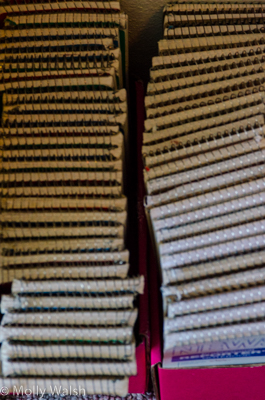 Years of previous "minds."
Today, he unearthed a batch of slides from the 70's that he hasn't seen for close to 40 years.
And there are so many more slides to explore!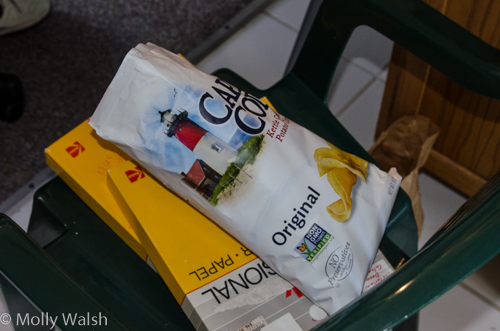 Good snacks are always a must around here!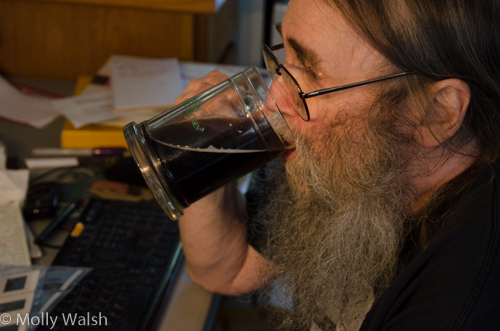 Diet Pepsi is, too….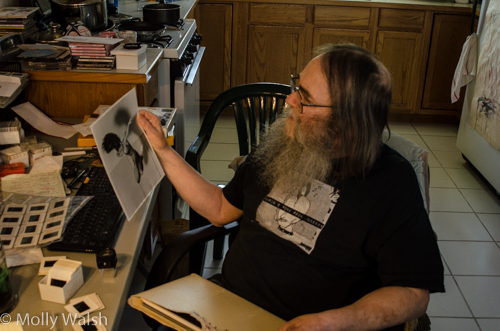 A departure from the 70's , Peter is recounting tales of dance and theater photography in the 1980's.
Music is always playing around here, and listening is usually evenly split between The Rolling Stones, Lou Reed and The Grateful Dead, with some classical jazz thrown in for good measure.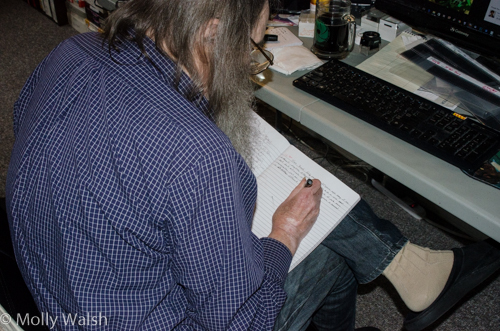 Everything gets written down!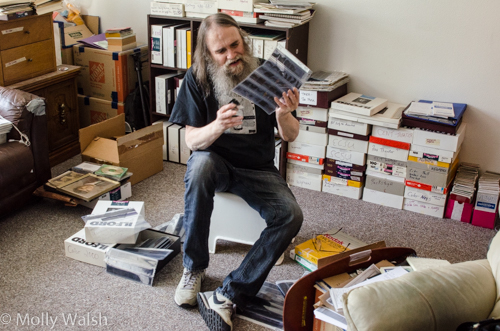 Looking through negatives to eventually scan is a daily task.  Some have never even been printed or scanned and there are so many to discover.  We were actually talking about how it's funny that when we first get a sheet of negatives back, we may pick a few and think the other pictures aren't worth printing…then a chunk of time passes and we see that sheet of negatives again and the images that we thought weren't worth printing seem amazing the second time around!  There is always something that isn't seen the first time.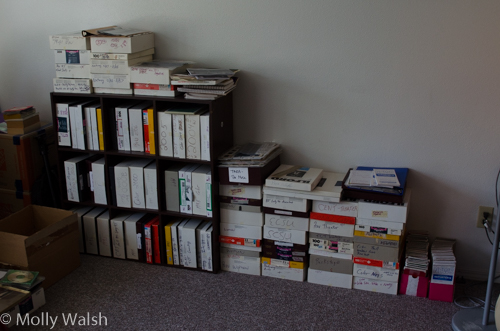 A life's work.  These boxes are all filled to the brim with sheets of negatives.  All this somehow needs to be sorted through and condensed to 150 images for the final book….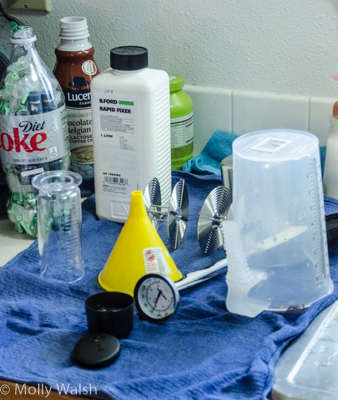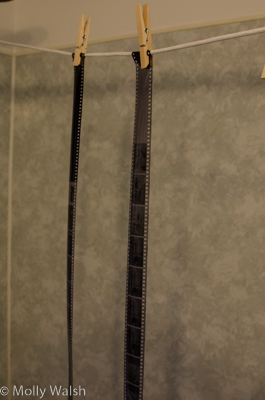 And new images are always being added.
Seriously, everything gets written down.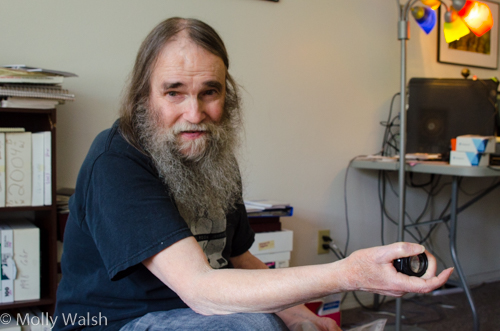 Peter's reflecting on life in the late 1960's….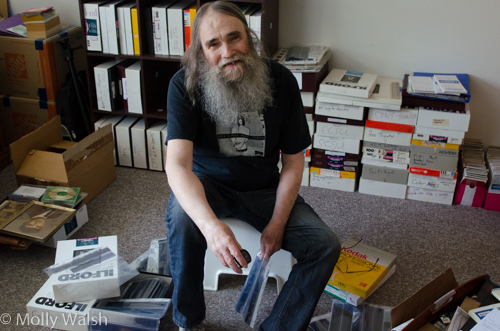 It's actually sunny today.  I am trying to convince Peter to take a little break and go for a walk and shoot…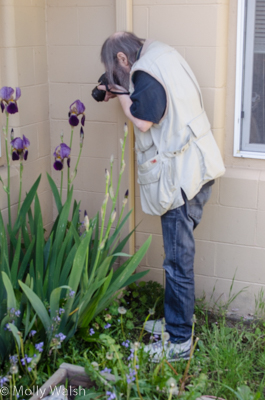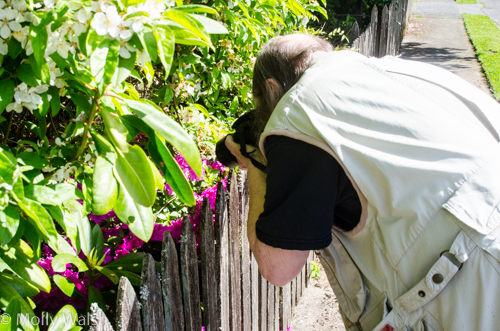 Success!  Peter in his natural habitat.