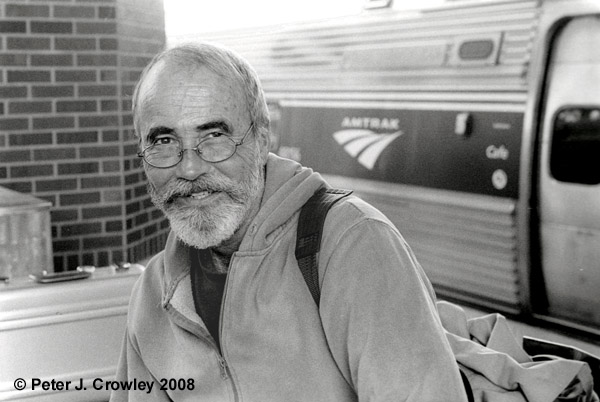 My last great seatmate from Chicago to Albany an ex Marine from Maine
who I became fast friends with once we started talking.
He constructs Dioramas of Historical Battles that are in many
Museums and Military Colleges.
He plays some mean Beethoven when not eating pebbles from Mt Rushmore,
in search of a new President.


Still August Nineteenth arrived in LA with a four hour layover and too much baggage! Rees had suggested a couple photo ops near the station, which is just off Ceasar Chavez Ave. Old LA is a couple block walk but I was beat, got out the door and was hit with 90 degrees and turned back to the slightly cooler Union Station to sit and eat. Webster from Zimbabwe who I had met in Sacramento joined me for dinner and conversation. Webster was a true highlight of the stay in LA and we got to sit together and talk for a few hours at the station and a couple hours more on the train. He knew more about American Literature than I did having just received his Masters in Communications at The University of Oregon. We sat, talked politics I attempted to explain the Electoral College which is like trying to explain someone wanting to go over Niagara Falls in a barrel. Neither makes any sense! When I told him I was voting for Nader and my feelings that the two party system was really a choice of which set of Millionaires get to spend tax dollars on other millionairess. Take note this is pre the first bailout. Webster comments on how he hasn't met anyone with my unique viewpoint and integrity to vote my conscience. Sadly it is late and I am getting off in Flagstaff around 5 am so I must go back to my seat and sleep. We have emailed a couple times since our all to brief meeting. I now know just how tired I was in LA for I remember taking his photo but when I look at the negs it seems I didn't how sad. Next stop Flagstaff for 24 hours of shooting talking and seeking the highlight.
enjoy pjc