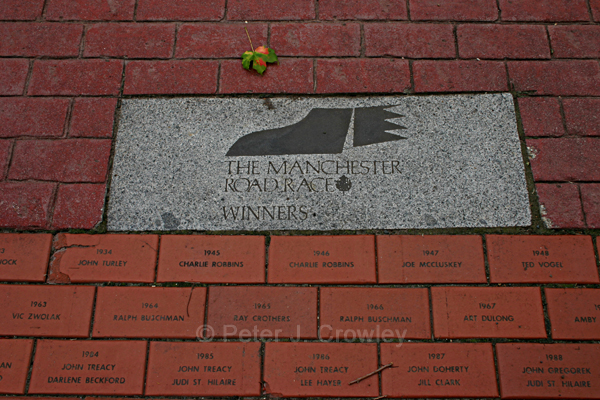 The Manchester Ct Road Race on Thanksgiving is still in Autumn
yet to me and many others it is the kickoff to winter. Here a last lingering Maple leaf adorns the sidewalk where bricks with past winners names are placed. First run in 1927 the race starts at 10 am and is 4.748 miles with up to 11,000 runners [2001] usually around 9000 registered competitors, from locals and world class participants. Watch for me as I run by LOL.             enjoy pjc
Holiday specials, print sale and portrait sessions being booked for your gift giving. A thousand artist proofs to peruse. Books, note and post cards very inexpensive. Book a session or visit my Open Studio November 27th 35 Chestnut St # 109 Norwich Ct. Noon-4 pm or by appointment. Email me.