A lamp pole, a parking post if it is there you spin on it always.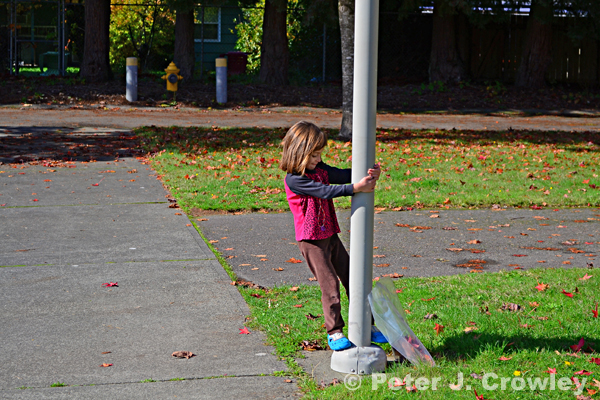 Maybe this one……………..
This one after spinning a couple times I took this image and tried to explain dizziness.
Friday around 3 Kirsten and Inara arrive. The Fun level rises to a peak. Grandpa have any of that blue tape? I do so we go to the mirror to try tape positions. Settling on the side of her face we are off to Mekong for sticky rice. Arriving during a downpour the put on your jacket goes on for a few minutes. Jacket on my new hat and under my coat a "Grandbrella." Inside we laugh as Mom had grabbed her backpack. A young women leaving obviously needs the story of silliness. Inara provides details and highlights of her day picking up colored leafs. The women says she didn't get out before the rain. Not a problem I have some for you back pack opened a selection made lots more giggling and it is time to sit and eat. Saturday morning she arrives. I didn't bring any toys.  We don't need toys we make everything a toy. A jewel she brought becomes the spinney chair wood spoon game. A stroll brings us to Olympia High school where there are poles. Ice cream I have some at home. Not the right kind. Waiting for the bus after 10 minutes I ask is it really the kind of ice cream or do you just want to go to the restaurant and people watch.  A sly smile "ya" a few more minutes and the Mango FroYO at my house sounds good.   The Mekong incident was great but there are times where I let her be without images. There will be more blue tape and hat scenes I am sure.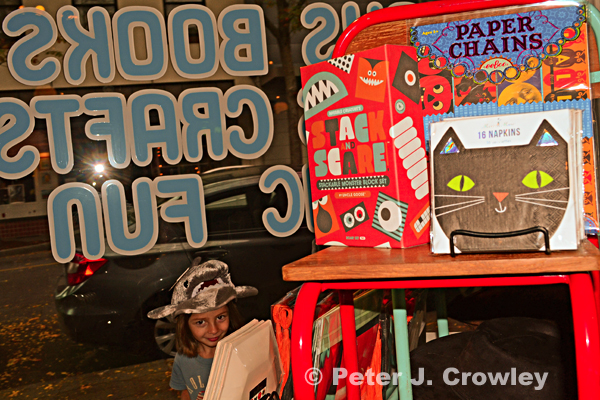 A Shark hunts for silliness at Capt. Little.
enjoy pjc
Photographic Art sometimes she is serious not often
A Life in Photographic Art with a 4 YO consultant