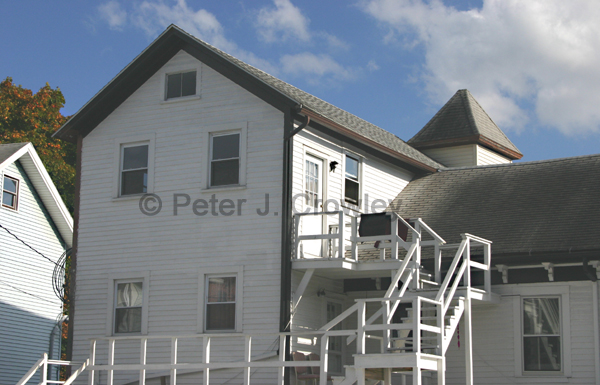 Stairs for the up and down metaphor, triangles holding the image together, reflections to take you into other worlds. Simplicity encouraging you to think make up stories.         enjoy pjc
There is a secret in this photo? Very unusual.

"God Bless. So, if you're out tonight,
don't forget, if you're on your bike, wear white. amen."  Mick Jagger Keith Richards  "Something Happened to Me Yesterday" Between the Buttons.
Friday November 6th you can travel 1.9 miles back and forth between my show and my Friends Roberta Sulls and Lori Rembetski's show at The Lighthouse gallery. See bottom of post for directions very easy. Hope to see you all.

Current and upcoming shows, and holiday portraits.
"Between Here and There." Photographic Art by Peter J. Crowley from the 1970's to today.  Pearl of the Thames Cafe 175 Thames St. Groton Ct. opening November 6th 6pm. Excellent munchies from Jason at The Pearl and acoustic blues by Mike Bloomer.

In Sight Photography silent auction Gallery Exhibit online and at the Gallery through November first. It is a great show and a greater cause. Show closes Nov first with a reception from 3 to 6pm online bidding closes at 5 pm.
Portrait sessions being booked for your gift giving. Your eyes your essence.
East Hampton Stairs
[paypal type="add37_nointro" name="EastHamptonStairs-D-62-09-16″]

Light House Gallery to Pearl of the Thames
http://www.mapquest.com/maps?1c=Groton%2C+&1s=Ct&1a=744+Long+Hill+Road+&2c=Groton+&2s=Ct&2a=175

Pearl of the Thames Cafe to Light House Gallery
http://www.mapquest.com/maps?1c=Groton+&1s=Ct&1a=175+Thames+St&1z=06340&2c=Groton+&2s=Ct&2a=744