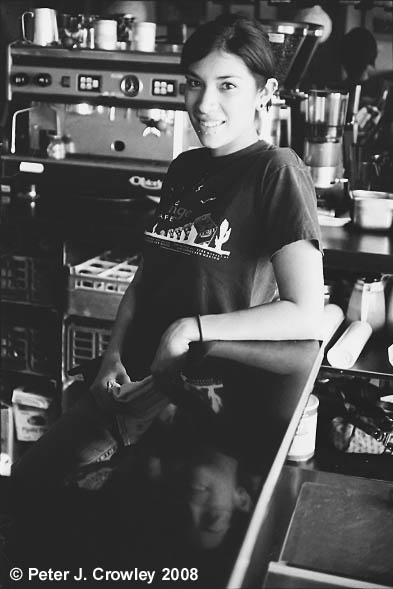 Today's photo is from outside Albuquerque at The Ranch Cafe
A great lunch after going up the mountain
.
August 20th and the road south continues. I have been all over the board keeping up with the blog, three gallery shows and my inability not to comment……….. Tomorrow is Thanksgiving here in States. Well tomorrow became today before I finished what started out as another rant.
This morning I could say I am running late, but I am not today is for family and friends. Today I cook and there is no deadline when I cook you eat when it is ready. This morning over my second cup of coffee I am thankful for the moments I am privileged to create and for the friends and family that allow me to make art. The photo is a reflection as is much of my work lately
"Why"
sort of an explanation. Today I will reflect some more and create a grand meal, perhaps an image or two. The trip across the country on Amtrak was fifteen days of reflecting on seeing old friends some of whom I met for the first time, attending my daughters wedding seeing her smile bright enough to light up the whole state. Short meetings with people along the tracks all willing to say hello and chat if you make the first step most people will find similarities rather than differences. Talk to your neighbors be they in the next apt. or across the world at the other end of your keyboard. This trip I met Rees and Ralph who I had known for years. Next trip maybe I'll meet Andrea and Miss Doodle [see link below] who I talk with often. Her work inspires me and many others.
I am beginning to ramble here so pop in here say hello and stop and say hello to Andrea. Look at my work and ask why, add yourself to the story I tell. enjoy pjc
My Transparent Life look around you could find you.