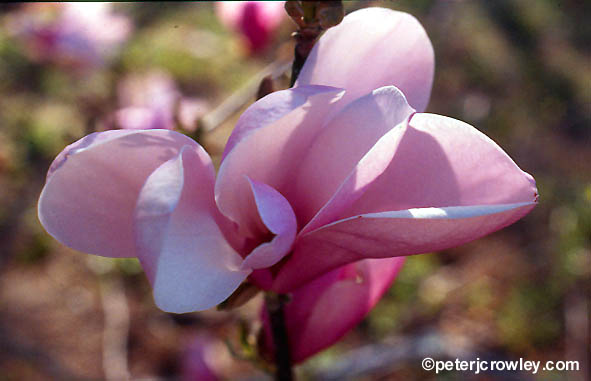 At Last Warm Sun
Photographic Art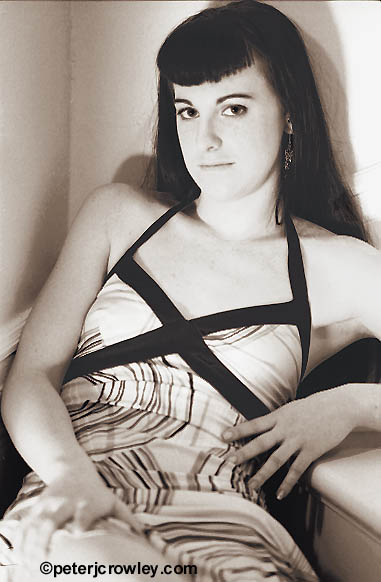 Better know as
The Photo Center of Troy
Opened in February of this year. An ambitious and inspiring dream of Nicholas Argyros has awakened at 404 River St. in Troy. The blend of the old and new in the fast changing world of photography is warm and welcoming reflecting Nick's love for the medium. There is a museum and studio space, many computer stations and equipment. The Library houses at least 1000 or more books on photography, history, techniques, images. It is a treasure that Troy should embrace, whether you are a photographer or not the center is worthy of a visit. See a show in the gallery, sign up as a member, take a workshop. All this and more information is available on their web site linked above.
During my whirlwind tour of Troy and Schenectady Wednesday and Thursday Nick allowed me to shoot with a model in this beautiful three story building that inspires creativity. The image above was made in a curved stairway with low light. Those of you in The Schenectady Photographic Society will note the use of negative space and the recuring triangles I've used to create this image. My only regrets are that I had only two hours to shoot and wasn't fortunate enough to meet Nicholas Reinert the Director of the center. I will see you on my next visit I'm sure. enjoy pjc
Photographic Art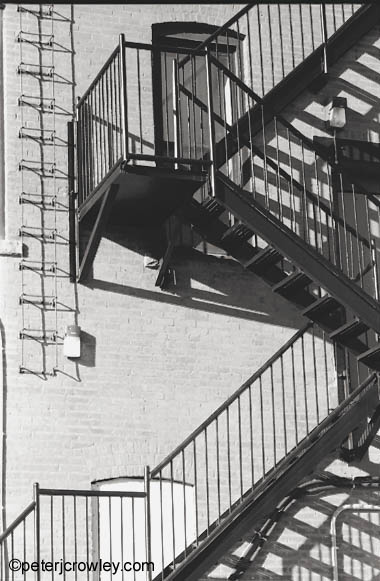 Norwich
I've been in Norwich for 5 plus years and watched as downtown has changed. There were up time and down times. This image is of a fire escape on The Alice a restored building on Main Street. Empty for the first 4 years it now is active with tenants. I often am accused of having a negative outlook. [no pun intended] As I look at this building some days I feel the stairs are going up sometimes down. This is the second old struggling City for me in the last twelve years the first produced a book. What Norwich will yield is still on the stairs unsure of whether the stairs are going up or down. Which way do you see the stairway going?
Willimantic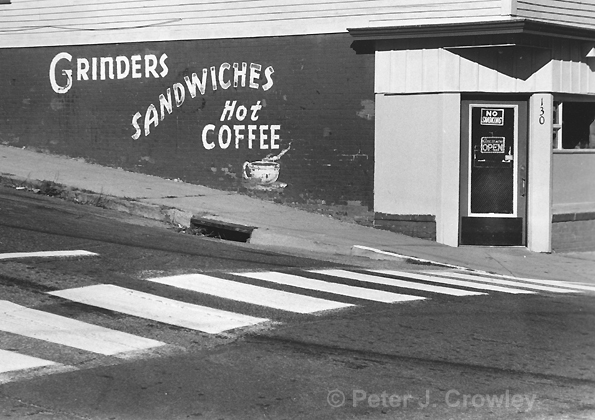 Many walks many fine destinations or just walks.   A first book solidifying direction.
Brattleboro  alluring on so many levels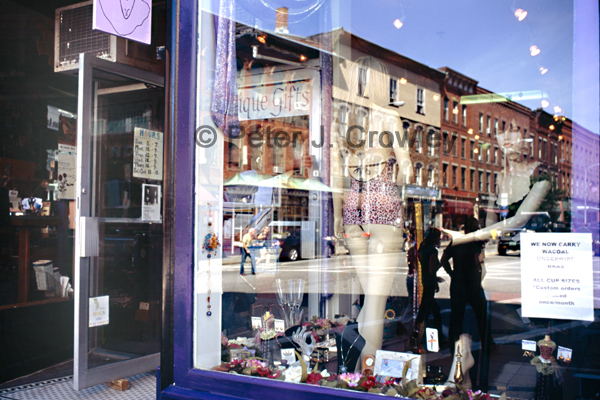 Brattleboro oh how I loved you from afar sunny warm afternoons occasional morning light I was tempted but you had a cold side that my body and soul could not abide. Image thoughts added 2-28-16 as I edit images.
Willimantic, Norwich, Brattleboro, The first two I've lived in and worked on the "arts" led revitalization. Brattlboro is that the next stop? As a frequent visitor since mid summer I have been documenting my visits or a better way of putting it is I have been creating self portraits of a small city. Self portraits of the way I want to see America and the world heading. I'll be back in Brattlboro again tomorrow looking for America, and that dream that I learned in school as a kid.
Comments encouraged.
enjoy pjc
Photographic Art