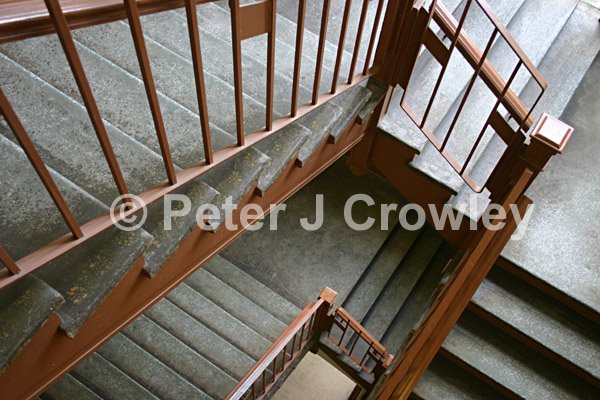 Once an elementary school, "Don't Run on the Stairs" now elderly housing with memories of running on stairs.

As the temperatures rise [we can only hope] and the dollar falls I ponder what is it that is of value? Friends of course lead my list. But beyond friends as an Artist I look at what other people put value on? Of course there are your tools and materials. But what else is there "Time!" How do others value the time of an Artist? I ponder how an Artist is defined in this new global world? Certainly not as a profession for a profession is defined by "Billable Hours." Is it technique? Tools? Mega Pixels? Something you do on the side to give back to the community? Or perhaps Community Service after you have stolen the future of the elderly, the poor and the children of the world. What is the value of time? What defines an artist? Just a couple of light hearted musings on a cold February morning. enjoy pjc
Free prints [for those who's patronage keeps me here] Feb discounts for all.
"If you don't read the newspaper you are uninformed, if you do read the newspaper you are misinformed." Mark Twain written prior to the birth of Rupert Murdoch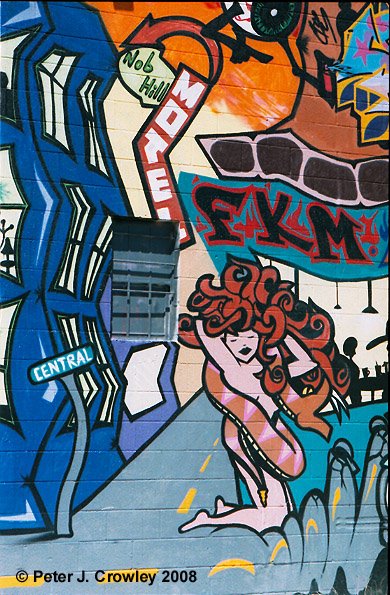 So today my thoughts travel through the seasons an ideal metaphor for humanity. Winter outside I'm older. The observation is more back, weighing events and roads taken. The image today is Summer, Assholes Garage Central Avenue Albuquerque. Summer where each new step is the beginning of an adventure. Summer I am younger and the vision is forward like a bee in a field of flowers awestruck by all the pollination options. So much to do, too many creative avenues to take, every block provides three new choices. In the summer we would listen to Tom Rush sing Joni Mitchell's "The Circle Game" a band of gypsies following a meandering straight line that would never end and certainly not in winter. But winter comes and the rejuvenating of dark, cold, short days stretch out beyond the sight of the Forsythia's first Yellow Light and the short solos of the Purple Crocus taunting winters last cool breezes bursting out in sunny spaces while snow retreats to the shade.
For today and the next few posts I will visit summer mostly through the blossoms of New Mexico artists and their public exhibits. Four days in Albuquerque provided a myriad of paths to art some by local artists some pollinated by my vision.
In summer people tent to speak more so pretend it is summer offer a metaphor, story or just a hello and if anyone knows who painted the Garage [all four sides] please ring in with a name. I searched for a signature and knocked on the door without an answer.
Warm summer thoughts to all don't forget the sun screen. enjoy pjc
January's Prints for the People