In the beginning there was a Nikon F and a 50mm F 1.4 and me seeking a muse only to discover I am "The Muse." New Haven Rail Station waiting for Metro North and a ride to NYC. Just a student of Photographic Art looking for a song to sing.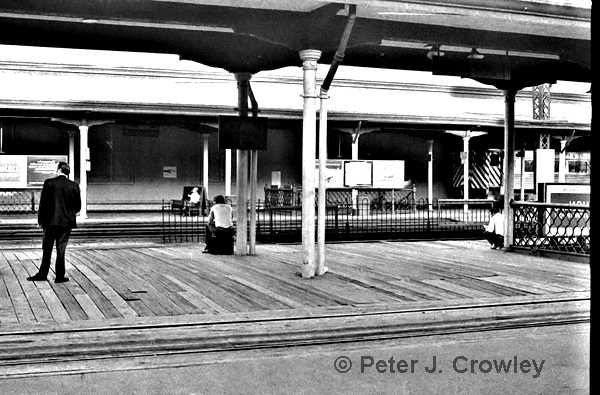 I guess this trip was after rush hour perhaps the 9am a quiet platform. When I would catch the train at 6-7am there were many suits on the way to work and few seats on board. By the second trip at that hour I had figured out to go to the Bar Car where there were seats and coffee. I was surprised having read about commuters and drinks. The Bar Car was full on the return trip.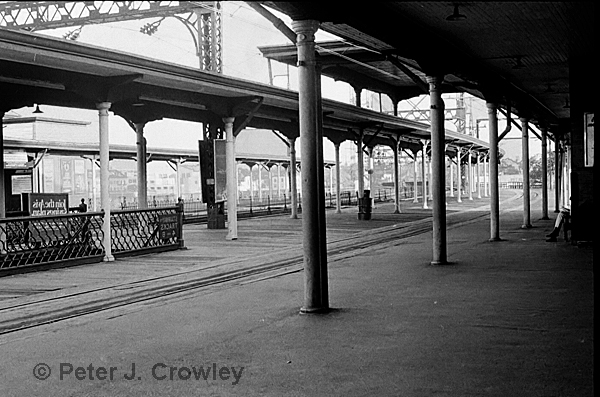 The world pans out down the tracks 20 plus years later the Goober was grown and out west. My love for the social travel that is Amtrak became an affair I will continue. Many roads, rails to travel many visual adventures stories to tell.
Today I begin to review Forty Five Years of images, visual poetry stories told in a fraction of a second. Thanks to Mike and Jeannette ant the Photo Connection of Colchester their support and belief in my work has been there since close to the beginning for Mike. I now have a film scanner with their help I am getting to know how to use the scanner. There are many patrons in my life who have kept film in my camera, food in my belly and a twinkle in my eye.                      peace pjc
Photographic Art    More from the Seventies here much more to come stay tuned want something you remember let me know. All prints are for sale.