Montville on a fall afternoon, neighborhood duality farmland on one side and suburbia on the other. Me I'm between here and there.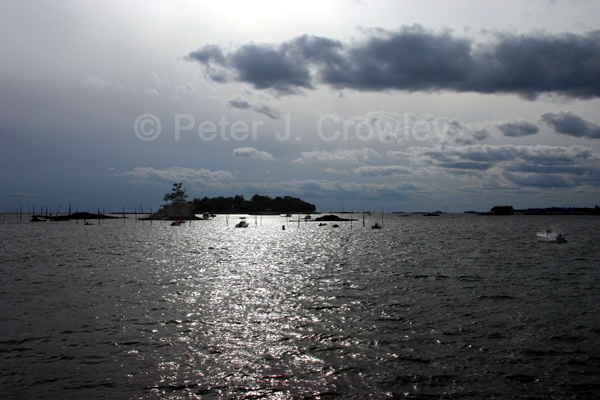 The Thimble Islands sun setting providing a hint of winter. So I don't shoot a lot of landscapes but these two distracted me in my travels. If you click on photos there are old thoughts on distraction. Same old thoughts but having thoughts beats the hell out of regurgitating Foxisum News or Wall Street Provda. After all the recessions over, and Senator "anything for a buck" Joe is still employed so screw the 7000 people losing benefits a day. But I digress as I listen to King Cake sing Pork Rinds. Something about pork always make me think of our corrupted awfiscials.  Oink oink.                                                                     enjoy pjc

Photographic Art
Art in Advertising or Truth in Advertising
Current and upcoming shows, and holiday portraits.
"Between Here and There." Photographic Art by Peter J. Crowley from the 1970's to today.  Pearl of the Thames Cafe 175 Thames St. Groton Ct. opening November 6th 6pm. Excellent munchies from Jason at The Pearl and acoustic blues by Mike Bloomer.

In Sight Photography silent auction Gallery Exhibit online and at the Gallery through November first. It is a great show and a greater cause.
Portrait sessions being booked for your gift giving. Your eyes your essence.